Solex
The Most Comprehensive Asset Security System for Houses, Motorcars
DURING the first few years of operation, Solex concentrated on making a range of padlocks to suit all purposes. The superior quality of these basic products established its reputation as a major brand in the growing market.
Meanwhile the number of cars grew beyond all expectation. In urban Thailand they became a necessity, while their price elevated them to status symbols. Security systems for cars became more and more sophisticated. From Solex there is now a complete, range: Car security lock, motorcycle lock, padlocks, furniture locks, computer locks, door knobs, handle locks set, fire resisting safe, solar energy water heater and water filter. As a useful sideline, Solex also produces with high quality material and meticulous craftsmanship a selection of tools for professional and home use: hammers, saws, screwdrivers, measuring tapes and garden shears, for example.
Our security products successfully anticipated the need to protect property, while the tools will be ready to respond to the do-it-yourself trend as it grows. World's consciousness about environment will gradually promote the popularity of Solar-energy products. Solex's early entry is typical of the company's forward-thinking. After all, being ahead of the game is the essence of business success.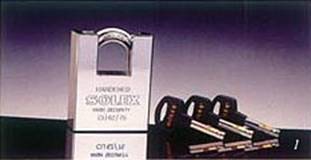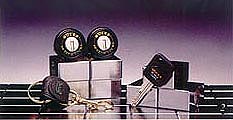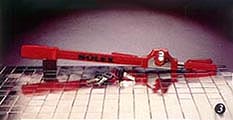 1,2,3 Some products from the extensive range of Solex locks and security systems.
The Solex World Beyond Thailand
Capacity to Supply. Quality to Support. Pricing Policy to Safeguard.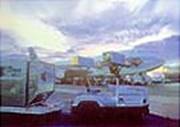 ALREADY over 30 countries around the world are enjoying the Solex brand of security products. With the completion of the new factory, our marketing effort will redouble to search for and to appoint more and more distributors. For each distributor in every country Solex guarantees rapid and constant supply of products that meet international quality standards. We also grant exclusivity by areas supported by a flexible pricing policy to safeguard against infringement and price-wars. Solex's global expansion will be built upon the foundation of partnership with its distributors. Every contract signed becomes a solemn commitment to work closely with each distributor to build and to expand each market, not only with existing products, but with service, technical sup ort and new innovation.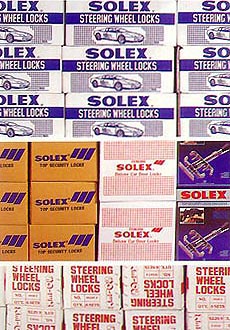 Countries with Solex Security: Asia : China, India, Malaysia, Hong Kong, Singapore, Pakistan, Taiwan, Indonesia, Vietnam, Myanmar, Cambodia, Philippines Africa : Kenya, Mauritius, Nigeria, Zimbabwe, South Africa, Tanzania Europe : Czech Republic, Sloyakia, Germany, Poland, Sweden, Italy, Greece North America : Puerto Rico, United States of America, Costa Rica, Mexico South America : Brazil, Venezuela, Argentina Australia : Australia, New Zealand

page

1 : 2 : 3 : 4