Perfection in each Component
Highest Technology Even for the Smallest Parts
EVEN in the most simple padlock there are over twenty components that require expert tooling. At Solex, we start with imported steel tempered to optimum hardness.
The raw material is cut to sizes that minimize wastage. Then our fully computerized Auto Time Machine cuts and drills steel sheets into components, large to miniscule, with absolute precision. On average, every tenth piece is subjected to quality standard check by a most modern and stringent testing machine.
The grinding machine receives the components next, to smooth out the sharp edges in preparation for the final assembly.




1) The padlock production section. 2), 3), 4) The latest in machineries help maximise production output.
The Ultimate Harmony
Skillfull Assembly for Perfectly Finished Products
SUDDENLY the whirring and throbbing of machines fall silent. In the assembling department, it is men, not machines, who rule. Here a group of highly skilled, thoroughly trained experts read the master plans and put the perfectly tooled components together, by hand, using only the most delicate precision-tools. Here, virtually every step along the line has built-in Quality Control Stations. In lock and security systems assembling, a tiny misalignment at any stage can cause the mechanism to fail. It is no wonder that when a lock finally comes through the assembly line, it is already guaranteed to be a product of perfection.

1), 2) Encoding in many millions variations. A task that requires the highest skill and computer know-how.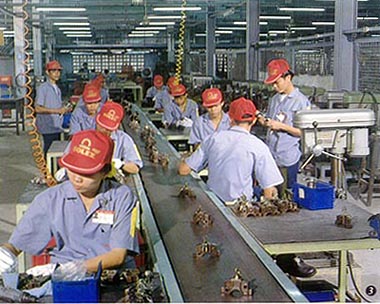 3) Components travel on conveyor belts to the many assembling stations.

page

1 : 2 : 3 : 4