Non-Stop Performance
Strictest Quality Control fr Product Longevity
QUALITY Control at Solex is certainly not an afterthought. Our whole production procedure is a non-stop OC exercise. The Hardness Tester makes sure that all metals achieve the international standard accepted as highest and best for production of locks. Every tenth piece of component cut and drilled by the Auto Time Machine is checked for absolute accurary. Every step on the assembly line is tested for perfect fit and alignment. The finished product is tested and retested for smooth performance. Owning a Solex product means having a virtually indestructible instrument that will give you non-stop performance throughout your lifetime and beyond.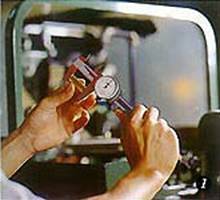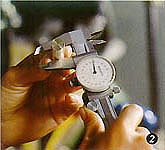 (1),(2) With the vernier calliper to read the dimension, error, if at all, is as minute as 0.02 mm.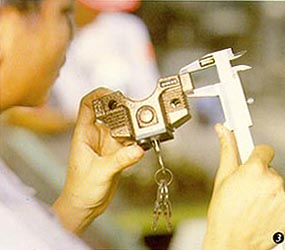 (3) The Lock Shock mechanism in a motorcycle lock is being measured with a vernier calliper.
The Legacy of Proud Craftmanship
Continuous and Professional Training to Develop Skilled Workmen is a Solex Tradition Set to Continue into the Future
LESS than two decades is not a very long time. Our achievement, although remarkable within such short period, is only a basis for future growth. While factory, raw material and machineries can be easily bought and built, skills of our craftsmen must be nurtured over time. The time is now. Our extensive training programme is a combination of the age-old apprenticeship system and modern-day career advancement plan. Each year new apprentices join our growing workforce. They are given the basic skills which are honed by practice under experienced craftsmen until they too become masters, all the while rising through the ranks passing their skills onward. As computer technology is an integral part of our operations, staff can take up the option of computer training and specialize in its many different functions. By making proud craftsmanship a legacy to be passed on, Solex will have developed a vital element that ensures healthy and unstoppable growth far into the future.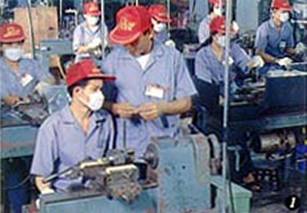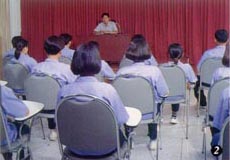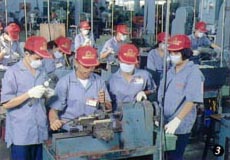 1), 2), 3) Closely supervised training that produces skilled technicians.

page

1 : 2 : 3 : 4